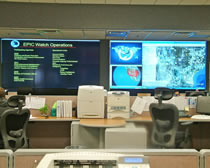 A U.S. Immigration and Customs Enforcement's Homeland Security Investigations (HSI) special agent contacted the El Paso Intelligence Center to place a nationwide alert on a vehicle of interest. The next day, the special agent received notice on his BlackBerry that a camera at a southwest border port of entry had captured an image of the vehicle's license plate. Border authorities stopped the vehicle, which was en route to Mexico, because of the nationwide alert. They discovered and seized an array of weapons in the vehicle's trunk.
The El Paso Intelligence Center is an information focal point, collecting and analyzing interdiction reports and multi-source intelligence to identify and track trafficking activities and organizations, identify and fill intelligence gaps, and provide tactical intelligence to law enforcement officers in the field.
The multi-agency center is hosted by the Drug Enforcement Agency and has grown to include more than 26 federal, state, local, tribal and foreign enforcement agencies. Foreign partners include Mexico and Colombia.
Located within a stone's throw of the Mexican border — in El Paso, Texas — its mission is not limited to only border activity. In fact, its scope is vast, covering activity within the United States, on both sides of the U.S./Mexican border, across the Caribbean and from other points of origin within the Western Hemisphere.
"The center's mission evolved after Sept. 11 when then center's multi-agency environment was called upon to support terrorism investigations," said Louie Garcia, the center's deputy director and the first ICE employee to hold this position in the center's 38-year history. "The mission evolved from its experience in supporting interdiction efforts and investigating drug trafficking, alien, weapon and bulk currency smuggling by adding anti-terrorism to its efforts."
Garcia calls it an "all-threat center."